What is the H'A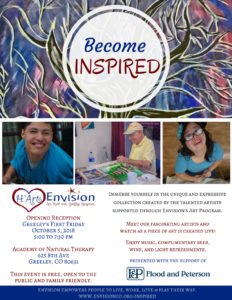 rt of Envision Art Show?
H'Art of Envision Art Show and Opening Reception is a unique and expressive collection created by the talented artists supported through Envision's Art Program. This event showcases paintings, ceramics and other types of media created by adults with intellectual and developmental disabilities (IDD).
The artwork is displayed in a formal gallery setting and an Opening Reception is held during Greeley's First Friday. During the Opening Reception, attendees enjoy the artwork, Envision celebrates the artists' accomplishments, reveal an "Annual Signature Piece" and allows the purchase of any work displayed.
The event is free, open to the public, and family friendly.
Beer, wine and light refreshments will be
served complimentary to guests.
Also, an Envision artist will create a piece of art live during the event! Following the Opening Reception, the gallery will display the collection for a period of time during the month of October.