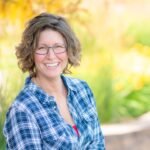 Jaymi Nickell
Member since 5 months ago
About
My name is Jaymi Nickell. Like you, I wear many hats.
• I am a System Coordinator for State Farm, supporting our internal computer users and their technology needs.
• I am a mentor with Academy of Las Animas Online school, helping students get to graduation.
• I am a volunteer in my community.
I have lived in Northern Colorado my whole life. I have travelled on many adventures within the US, Canada and Mexico and I have one more state to experience; Alaska. I always come back to my Northern Colorado home because of the mountain vista views and the authentic people. Genuinely helpful people make up our community. People who reach out to rise one another up to our greatest potential. It's AMAZING to be a part of such a community!

I am naturally drawn to connecting people with resources that help them be their best version. I practice a "See a need? Fill a need" mentality. My ultimate dream is to create a community gathering space, where people can come together to learn, play, and be better every day; living life fully by achieving personal goals, leading others in skills development, and leaving a legacy that tells of a full life.

I look forward to BEing Better Every day, with YOU!
Contact Info
2400 West 16th Street, Unit D, Greeley, CO 80634

jayminickell@comcast.net