The NorCoWIB Evolution… Relationship Building-Turning Contacts into CONNECTIONS
July 5 @ 7:45 am

-

10:00 am

$38.00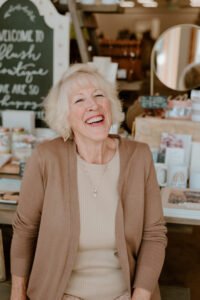 Kristi Helzer, Founder/ President Northern Colorado Women in Business – Wants members of NorCoWIB to know that processes are changing within our organization. We are thriving in our 15th year and we are raising the bar on our image and professionalism as we blaze  forward serving local women – like YOU – and our community.
We want YOUR Profile posted to attract people you want to engage with; which means keeping it up-to-date and using a professional headshot, offering specials you can benefit from by sharing – and we can help you with that. We want our community members to think of YOU when they need the products or services that YOU provide.
Your active participation will provide return through relationship building, referrals, increased knowledge you can implement from Workshop content and our Enlightening Conversations/Master Mind intimate small group sessions, plus we are adding additional seminars on popular topics – hosted by members.
NorCoWIB is a SUCCESSFUL business because of our members! Our goal is to give you yet another avenue for greater exposure. Each member is part of the foundation of this TRIBE. We want to give YOU the opportunity to step into the SPOTLIGHT to shine and share YOUR unique skills!
Online forms are now becoming available to post your events on our Web site in our eNews and online calendar. We can ramp-up your exposure through our NorCoWIB digital vehicles like Facebook & Instagram pages. You submit it as a png or jpg ready to post by the 10th (to go LIVE on the 15th) or the 25th (to go LIVE on the 1st of the month), pay a fee, gain content review & approval then select 30 or 60 days of promotion and visibility. There are different rates for general Businesses vs. our Nonprofit Business members & another for Side-Hustle Entrepreneur members, who also support themselves working for another business.
We will have a Featured Member going LIVE on the day of our monthly Workshops as another way to support YOU. Look for Tabatha Erb, Erb Element who is assisting with getting all your profiles launched and helping re-vamp our Web appearance.
Old profiles need to be re-done and RENEWED, as they would NOT transfer from the old Web site to this new more professional vehicle. So we are all starting over! The Leadership Team is our first Wave and we invite those who need some "hands-on" assistance to a FREE support 1st come network Coaching Profile Launch at the Farr Library, Wed., July 26th from 11 a.m. – 1 p.m. in the main meeting room. You can also have NorCoWIB member Kristie Allbritten, Spoken For Photography, take you headshot for a very reasonable cost of $50.
We are implementing a Renewal/Maintenance fee starting in July. There will be an annual renewal on the anniversary of posting your member Profile as we move forward. All members who already had a Profile, will get a break when you re-post and grandfather in, Kristi will give you a FREE Workshop. This must be used before November 1st, 2023. These Fees are necessary to cover growing costs to have an online presence. We researched other networking groups in Northern Colorado, as well as groups in similar size markets, and we are offering great value at reasonable/competitive pricing.  We will be sharing a video tutorial to assist you with this process. Reels can also be shared. You will get a price sheet at the July 5th Workshop for members only.
We will continue to provide collaborative opportunities for you to:
sponsor events
volunteer together to enjoy collaboration and community impact, such as a 3-hour volunteer work session at the Weld Food Bank, or

a Habitat for Humanity BUILD Day together – giving you additional NETWORKING time.

Provide promotional materials for NewBEE Bags and Speaker Gifts
Lead activities where we want community visibility
make :30 announcements at the end of the Workshops
Serve as Enlightening Conversation Leader/ Hostesses
Sponsor a Training that will enrich our business skills
Every June/July/August Kristi surveys members to capture your areas of interest for programming for the upcoming year. The GOAL is to help you grow personally and professionally. We will consider people you have heard speak or would like to learn from, folks doing Ted Talks…those whom you believe would provide a beneficial program for our TRIBE. Kristi has to hear a speaker before featuring them.
All you have to do is share your ideas for topics and speakers. The topics that are most frequently requested, will then be pursued, and scheduled in 2024.  This program planning time is also an opportunity for you, as a member, to become a Workshop presenter – it is OK to nominate yourself!
We average 6-9 NewBEES each month is what contributes to our incredible growth as an organization. Our members bring their friends and customers, co-workers and networking buddies to our TRIBE, which says a  great deal about the pride our members take in each others' success. I am so proud to know these women!
Follow, share, comment, and become a Friend on NorCoWIB.com & Kristi Helzer's FaceBook pages,  Instagram, LinkedIn platform, which provides great business connections and our NorCoWIB Home Page. This will contribute to expanding our reach! My granddaughter even set me up with a SnapChat account. So many options, I'm doing my best not to be overwhelmed, while learning all the best vehicles to promote YOU and YOUR Business, so be patient! This former teacher is now the student!
Three key points attendees can look forward to gaining from our July 5th Workshop about Relationship Building and turning Contacts into Connections as a take-away will be How to…
Be "YOU" Centered / Show genuine interest / LISTEN (put your phone away!) & FOCUS!
Believe in the Law of Abundance & Law of Attraction – don't fear competition, embrace it. Be on time, ask open-ended questions and use good "conversation starters" when networking! Gather 3 to 5 details/facts about each new person you encounter (and remember to follow-up & ask about them things they shared, the next time you see those individuals).
Learn to place a dollar amount on your Networking time – think of interactions with others as an investment in their future…and yours. This should be part of your Marketing/Promotion budget.
Kristi Helzer, President and Founder of Northern Colorado Women in Business, has 40 years of Marketing/ Communications, Business Matchmaking and Creative Solution-Building experience. She is a life-long Greeley/Weld County resident; a product of Greeley/Evans School District 6, and a UNC graduate. She is devoted to continue learning something new every day.
Her resume lists:
event planner
teacher
speaker
influencer
business coach
networking diva
writer
business tool developer
mentor
& Mom (beware you could be adopted) & Grammie (best job ever!)
In January of 2009 she launched this professional women's networking organization often referred to as: NorCoWIB, which has attracted over 1,500 local women to its events and continues to thrive. Until last year this passion was a side hustle to her full-time employment. Now she is retired and pouring her heart into updating opportunities for YOU! She has a new Mantra she will share on the 5th!
She's been a "communicator" since she started talking as a child and has yet to run out of things to share. But she states her true Superpower is: "listening between the lines," being "OTHER- FOCUSED" and truly engaging and caring about the people in her life and community. There are no strangers in her sphere, just people she is looking forward to meeting and serving – and they are very diverse, which is the spice in her life 20-somethings to 80-somethings from just about every profession available along the Front Range. The range of experiences people share is mind-boggling and we can learn so much from each others' stories! This is building relationships!
She has been married 45+ years to Richard (so you know she possess great survival skills) and is a "boy Mom" of two sons, Joey, in Heaven and her oldest, Ben, who has blessed their family with a 11-year-old BONUS granddaughter, Bri, and a 4½ -year-old grandson, Finley. They are the JOY in her world along with Zoe, the wonder dog …and the NorCoWIB TRIBE.
Kristi has a servant heart and is a dedicated community cheerleader and volunteer who says "helping others fills me up and keeps personal challenges in perspective, because the rewards of giving, far outweigh any other life challenges." She welcomes women to Northern Colorado Women in Business and all that it has to offer them. She is looking forward to meeting future members and welcoming them to this outstanding TRIBE. If you actually read all this – see Kristi on the 5th and say "Mantra" and she will bless you with a wee gift.
You can contact Kristi Helzer, and learn more about her at:
Web Site  https://www.NorCoWIB.com   
email Kristi@NorCoWIB.com
phone number 970-381-8905
Facebook https://www.facebook.com/kristihelzer
Linked-in https://www.linkedin.com/in/businessmatchmaker/
Twitter https://www.linkedin.com/in/businessmatchmaker/           
Instagram https://www.instagram.com/norcowomeninbusiness/   
SnapChat https://www.snapchat.com/kristi_helzer/
Please Thank our member Volunteers for helping make this Workshop a powerful experience for YOU – we will be moving at warp-speed:
WORKSHOP Date: Wednesday, July 5, 2023                
Program Title: The NorCoWIB Evolution…Relationship Building, Turning Contacts into CONNECTIONS …Discover productive ways to create SUCCESSFUL interactions at work & in your community using Tips & Secrets!  Plus, an UPDATE on our NorCoWIB Evolution!
 Speaker: Kristi Helzer, Northern Colorado Women in Business Founder/President
 Location: High Plains Library District Admin. Building, 2650 W. 29th St., Greeley 80634
Catering: Margaret Thompson, Margie's Java Joint & Catering 
Set-up DIVAS 4-5 p.m. Monday, July 3rd Gered Stovall & June Lemmings, June's Team-Powered by Keller Williams; Celeste Ewert, Envision; Rich & Kristi Helzer, T-H.O.G.s & NorCoWIB
Check-in Hostesses: Gena Wickes, Peake Wellness; Celeste Ewert, Envision
Greeter: Kate Howell, Realtor/60+ RIDE
3:00 minute-7th Inning Stretch:  Lyndsey Oates, UNC Volleyball Coach
Clean-up DIVAS: Charee Voelz, Traveler & NCMC Volunteer; Cyndi Kurtz, Habitat for Humanity & ReStore; Debby Baker, Community Grief Center; Jaymi Nickell, State Farm Ins / Academy of Las Animas Online School; need a couple more pls.
Sister-to-Sister Pay-it-Forward will benefit Zac's Legacy Childhood Cancer Fund that exists to alleviate non-medical financial burdens that too many Colorado families endure while their dependent child is battling cancer. Your gift will positively impact a family and take some pressure off when stress is running high while their child is waging war with treatments to return to a cancer-free life and rid their body of this dreaded disease. Sharon Eberhard, Life Stories Child and Family Advocacy will coordinate this month's philanthropy. Sharon has to leave early, so she could use a helper pls.
You can also donate to help the American Cancer Society & our Good Vibes Always-NorCoWIB Relay for Life Team, supporting  Cancer Research. You can use this link to donate online: https://www.mobileacs.org/hr2r6e
Be sure to volunteer to assist with upcoming programming! More Networking time for YOU and a great way to get to know our members!